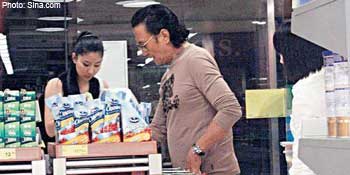 Hong Kong veteran actor, 71-year-old Patrick Tse sees nothing wrong with dating someone younger. After all, his girlfriend is the ripe old age of 23.
Shin Min Daily News reported that at a recent show hosted in Shanghai, he spoke about his relationship and proudly claimed that "love has no boundaries" and that they are both "truly and very much in love".
The father of popular Hong Kong singer-actor, Nicholas Tse, is currently dating Coco, a Shanghainese who is the same age as his daughter, Jennifer Tse.
However, Patrick does have a few convictions when it comes to dating young women: He does not believe in fooling around and causing distress to the other party, and he does not believe in marriage or having children.
"It's not beneficial for the future well-being of the child, so it's best not to get married. The current situation is ideal. It's not easy bringing up a child, although making one is easy," he said.
According to the Chinese daily newspaper, Patrick revealed that he knows what goes on in people's minds when they see an older man dating a younger woman and he does not care what others think.
"It's ok as long as the both of us do not mind being together.
"I'm much more energetic than most of the young adults these days. When it comes to dating younger women, I'm only World No. 2. The No. 1 title should go to Franklin Yang instead," he joked.
Franklin Yang, who is currently 86 years old, is a Chinese-born American physicist who married Weng Fan in 2005 when she was 28.
Patrick strongly believes that it was fate that had brought him and Coco together.
"Fate brings people together. Without it, no two beings would have had the opportunity of meeting each other in the first place.
"She's from Shanghai and I'm from Hong Kong. We live so far apart from each other and it was fate that had brought us together," he exclaimed.
Patrick also expressed that he feels very blessed at the moment because of the people around him – his mother, children, grandchildren, as well as Coco. His family is also very supportive about his relationship with her.
"Nicholas and the rest of them are very happy for me. I'm really quite lucky to have such a pretty girlfriend," he said.