With "So Hot" still enjoying immense popularity now, a follow-up single is already on the cards? Even being too popular doesn't really seem to be a good thing for the Wonder Girls. At the same time as "So Hot" is enjoying popularity with everyone, the Wonder Girls are burdened by the beautiful dilemma and pressure of having a successful follow-up single in the near future.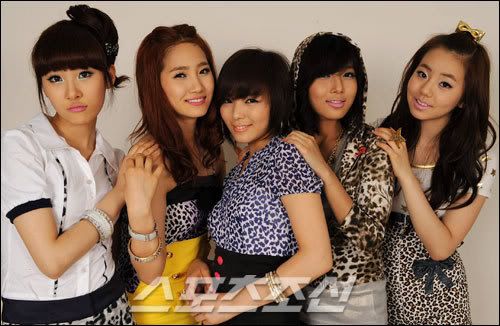 Just like it's name "So Hot", it has swiftly strike a rapport with everyone, just one week into it's comeback, it had already grab the #1 spot in the various gayo shows. It was first on KBS Music Bank for four consecutive weeks and was Mutizen winner on SBS Inkigayo for three straight weeks (maximum is 3).
Because of it's continued dominance on the charts, the tv stations (KBS and SBS) felt sorry for the other singers because they would have to keep giving the #1 trophy to the Wonder Girls if they continue to promote "So Hot". There are thus many questions about the Wonder Girls follow-up single.
According to one PD, "We never would have predicted how popular this song (So Hot) would become, we were flustered seeing it's success."
Following the success of "Tell Me" last year, the Wonder Girls had prepared for their comeback this year with their "So Hot" mini album for quite some time. Besides "So Hot", it also included a ballad track "This Time" and dance track "You're Out". "This Time" which was performed concurrently with "So Hot" during their comeback stages proved to be very popular with their fans. They had considered using this as their follow-up single but decided to give it up after considering that it didn't go well with their overall image concept.
In it's place, they have decided to use the remix version of "So Hot" as their follow-up for the time being while preparing for their new album! Their second album is expected to be out in late September and carry on the momentum.
According to JYP Entertainment, "We haven't decided on the concept of the new album. Just like how Wonder Girls has always been setting the latest trends, we intend to prepare for this in earnest to repay the fans anticipation for it."
Credit: http://wondergirls.wordpress.com/